Frequently Asked Questions about Department Memberships
We are happy to answer your questions about Department memberships. If you have a question that isn't listed here or you need more information, contact Executive Director Ann Holt at 612-624-6626 or [email protected].  
---
Who can use our Department's Campus Club membership?
That's up to you. We will not give out your membership number. Anyone who makes a lunch reservation or books an event must supply their Campus Club membership number.
 
Your account number will be shared with you via email and you will receive two membership cards with this number. These cards are for department use only. We suggest that the department administrator (or another responsible person) be in charge of the cards and the card number, and keep track of who is using the Club and for what purpose. 
---
What are Department Guest Cards?
Department Guest Cards are small paper cards that tell our cashiers how to charge a guest's lunch. You hand them out to your guests prior to them approaching our cashiers. This system makes it easier for you to bring guests to the Campus Club for lunch. You can call our front desk in advance to request these, or just ask at the front desk when you arrive. If you bring guests regularly, we're happy to give you a supply.

Write your Campus Club department member number on the cards. Lunches may only be charged to your department account.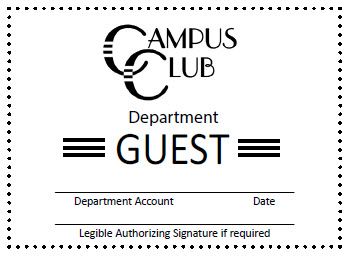 ---
Can I get receipts for charges to our Department account using Department Guest Cards?
We issue a receipt for every transaction in The Servery. Tell your department guests to collect receipts and return them to you. You may want to assign one person to collect the receipts and bring them back to the department.
---
What if our department needs more Department Guest Cards?
Call 612-626-7788 and ask for more. We will mail them to you. You can also stop by the Campus Club front desk over the lunch hour to pick up a supply. We will help you fill out the cards and distribute them to your guests. 

If you reserve a table or a room, we will fill out Guest Cards for you automatically. You can pick these up at the front desk when you arrive. 
---
If our department has a Department Membership, can department faculty and staff use our membership to visit the club personally and pay cash or use a credit card?
Personal use of the department membership is not allowed. The membership is a University asset and therefore must be used for business purposes only. You may not give the department membership number to the cashier and pay with cash. You must charge to the account or pay with a University P-card.
---
What is the Departmental Use Form and how can I get one?
The Controller of the University issued recommendations for documenting department use of the Campus Club. The Departmental Use Form collects the appropriate information to justify your use of the Campus Club. We recommend that you fill out this form for each use of the club. Details include date, purpose of meeting, etc.

Printed forms are at the cash register in the Servery.
 
Fill out the form and return it to the designated person in your department with a copy of the register receipt(s). Your department may ask you to also include note internal account details.  
---
If my Department has an event at the Campus Club, do costs just go on our Department Campus Club statement?
We invoice each event separately but you will also see these charges on your statement.
---
Can you invoice alcohol for Department events separately?
Yes, please let the Events Department know in advance if you would like us to split the invoice for an event.